Blessed & Highly Favored Retreat
Friday, March 29, 2019 at 5:00 PM
Event Information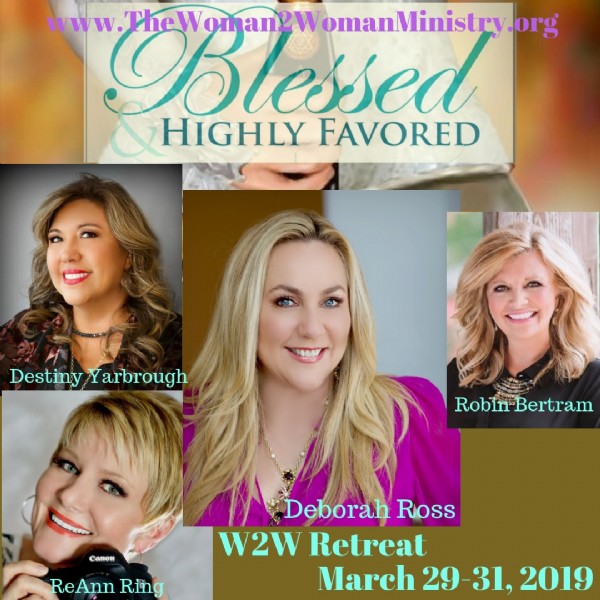 Join Deborah Ross and Guest Speakers...
Date: March 29-31 2019
Place: Waynesville Inn Golf Resort and Spa
In the beautiful... North Carolina Mountains
A time of Refreshing...
A Time of Reflecting...
A Time of Relaxing...
A weekend well spent with The Lord!
... And, bring your friends!
Register Early! Space is limited.
WHAT TO EXPECT... 2019 Retreat
Blessed & Highly Favored
A weekend to remember in the North Carolina mountains with:
Bible Study
Prayer
Praise & Worship
Reflection
Fellowship
Take a Peaceful Break
Expect to relax, laugh, cry, enjoy nature and hear from God!
You will return home ready to face the challenges of your everyday life - expecting God's favor - with a new perspective, a new attitude, a fresh anointing and a revived spirit.
God is Calling
Don't let anything stop you from being there!
PLACE
Waynesville Inn Golf Resort and Spa
In the beautiful... North Carolina Mountains
The Waynesville Inn Golf Resort & Spa
176 Country Club Drive
Waynesville, NC 28786 • US
Questions?
CONTACT
Contact: Sonia George
Phone: 704-254-1914
Alternate Contact Person
Phone: 980-722-8764
E-mail: TheWoman2WomanMinistry@yahoo.com
PRICE
Weekend Package = $250
(Only $225 when you pay in full RIGHT NOW - SAVE $25!)
*Includes shared room for 2 nights, 5 meals and Full Conference Sessions from Friday night through Sunday at noon.
MORE PAYMENT OPTIONS:
AFTER YOU REGISTER FOR THE RETREAT... (optional)
Schedule a photo session with award winning photographer: ReAnn Ring of Images by ReAnn
About this Event
Have you ever wanted a gorgeous headshot or fabulous full length photo for your family, business, website, social media, or just for fun?
PRE-BOOK your time slot for a photo session with ReAnn at the Women2Women Retreat. Choose from three package options, ranging between 15 to 60 minutes, one to three outfit changes from your wardrobe, and up to six professionally edited digital images from your session!
PURCHASE SESSION ON EVENTBRITE NOW AND CONTACT REANN AT REANNRING@GMAIL.COM, OR 770-374-7940, TO BOOK YOUR TIME AND DISCUSS YOUR SESSION.
Pick your look from basic and natural, or business, or ultra glam - this is your time to shine. Ladies you are blessed and highly favored!
CLICK HERE TO FIND OUT MORE AND TO SIGN UP TO RESERVE YOUR SPOT!
Event Location
The Waynesville Inn Golf Resort & Spa • 176 Country Club Drive • Waynesville, NC 28786 • US
Contact Information
Contact: Sonia George
Phone: 704-254-1914
E-mail: